The Creator of Fame and Footloose: My Change Nation Interview with Dean Pitchford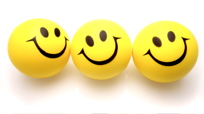 Listen as the creator of Fame and Footloose tells why it is that so many people feel like nobodies today—that they don't matter and that what they're doing isn't important? I recently posed this question to Dean Pitchford, award-winning songwriter, screenwriter, director, and most recently, author of the children's novel, Captain Nobody. In his opinion, the media is to blame.

"The Internet and television have brought us a mistaken notion of how everybody else's life is," suggests Pitchford, "and we're going, 'gosh, I should look [or be] like him or her.'" Pichford wants to say to people, "don't measure yourself against an impossible standard." (He also advises parents to limit kids' TV viewing.)

Pitchford finds it amusing that people think his life is so glamorous. "The fact is, I do schlub, schlub, schlub [slob] all the time," he laughs, noting that once in a blue moon, he puts on a decent pair of pants and goes out. "A friend of mine once said, 'Don't judge your insides by my outsides,' and I try to live by that."

Listen to my entire Change Nation interview with Dean Pitchford.
Posted: 10/30/09