The Love Guru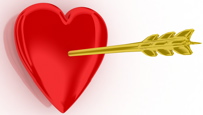 If you're single and ready to meet the "One," Blaire Allison, the Love Guru, has the secret formula. She's developed a program to teach you an easy, flowing, natural way to attract your soul mate.

Blaire hasn't always been a love expert. Frustrated about her love life for the last time, the idea to create an "I'm Ready To Get Married—Do You Know My Husband?" web site suddenly came to her. "Within two days, I was getting emails for my own VH-1 reality show and press requests to be on MSNBC and in The New York Times,' remembers Blaire. The resulting spiritual journey and transformation taught her a brand new, easier way to attract the One, which she now shares with others as the Love Guru.

Blaire says the most important thing she has learned is to follow what's in your heart. "If something is frustrating you in your life, think, pray, and surrender, so an idea that makes that task fun again will come to you," she advises. Then take action.

Read more about Blaire Allison in our Profiles of Change gallery.
Posted: 10/12/09