Gossip Girls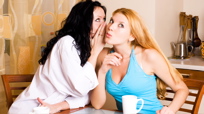 There's a reason "Gossip Girl" is one of the most talked about shows on TV, and it's not just all the sexy, angsty drama about Upper East Side teens that draws viewers. People love the idea of gossip, and they love to do it too. So if you're going to give into temptation you might as well do it right. A few gossip do's (since you already know the don'ts):

DO be discreet, choosing whom you're going to tell very carefully.
DO make sure you get your facts straight. There's nothing worse than slander.
DO know your sources. Sharing things you heard from someone's sister's hairdresser isn't the best information.
DO feel good about passing on the truth. It's not gossip. You're just sharing information.
DO be careful about where you gossip. Badmouthing a co-worker to get the corner office will certainly backfire and no one will trust you.

Truly, gossip is usually not in your best interest. It's one thing to share good, valid info on a friend's pregnancy, promotion or the like. But if you know the third party wouldn't want the information shared, or you'd feel shamed if you knew they could hear you or it got back to them, think twice. You've got relationships you want to improve, after all. Engaging in mindless gossip will only harm them.

XOXO!
Posted: 1/9/09