End Your Dating Dry Spell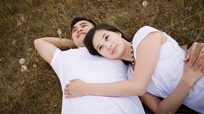 If you haven't had a date in a while, don't start going out with people just to go out with them. "You'll quickly inherit that telltale stench of desperation," warns Wendy Atterberry, contributing writer for The Frisky, "the smell that warns prospects that you are hard up and should be avoided." Never stop being picky.

According to Atterberry, the best strategy during a dry spell is to get a life. "Maintain an exciting and interesting life, full of great friends, hobbies, a fulfilling job, fun classes, travel, and culture-packed weekends," she advises. "If you do that, the rest will take care of itself." She suggests having at least three things planned every week, not including work and television, so you'll have something to bring to the table when you do have a date.

How do you land a date when you see someone you find attractive? Look at the person long enough to hold his or her gaze and then smile!

Read more expert tips and advice on finding romance here.
Posted: 9/13/09