Don't Run, Walk Calmly to Your Nearest Goal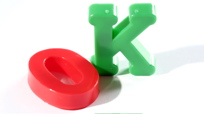 Eat right, get enough sleep, exercise, breathe… everywhere you look, there's more advice. Rather than getting totally stressed out striving for perfection, sit back, relax and enjoy the "good enough" ride.

Not that you should give up, but when you're making life changes, a baby step is good enough--for now anyway--and certainly a healthy improvement from where you started.

If you're getting six hours of sleep and experts recommend eight, shoot for seven. If you've started exercising, aim for three times a week, not five. Moving partway toward a goal will motivate you to keep moving in the right direction.

Today, set a "good enough" goal for yourself and vow to reach it. Get seven hours of sleep, drink four glasses of water, eat three servings of fruits and vegetables or take a baby step towards some other long-term goal. Take off the pressure, and your progress will start to soar.
Posted: 9/30/08