Patience is a Change Virtue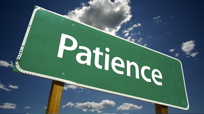 We all love instant gratification—stopping for ice cream, buying the car right off the showroom floor or finding the movie we want in the On Demand listings. But when it comes to change, there's nothing instant about it. As much as we want a fast fix for our feelings and emotions, change takes a whole lot of patience. Accepting this will help make change easier.

"The universe works on its own schedule," says Ariane in her book, The First 30 Days: Your Guide to Any Life Change, "Even as the mind has already decided that the change process is taking too long and tries, in vain, to speed it up." Usually, the harder you try, the worse you feel.

If there's a change you're anxious to get through, think endurance, not impatience. Do whatever is in your power to help you get through the change and try your darnedest to let time take care of the rest.
How do you practice patience when waiting for change?
Posted: 9/29/08