Not So Heavy-Handed on the Pour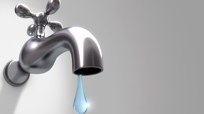 If your water bill is a little higher than you might like, try easing up on the handle when you turn on the kitchen faucet—you don't always need it on full blast. If you are trying to create a green home, consider enlisting the help of a special touch-free faucet to minimize water use for you in kitchens and bathrooms. You know, like the ones in all the fancy restrooms that turn on automatically when you put your hand in front of it.

They're a bit of an investment initially ($300-$400), but you'll start to see the payback on your next water bill. Beyond saving you money—and impressing your friends—you'll feel good knowing that you're helping the environment by protecting our most precious resource, water.

A cheaper option is to throw a $3 aerator on the faucet. Just don't be surprised when the dishes start complaining about the water pressure.
Posted: 9/22/08