Gentlemen, Screen Your Prostates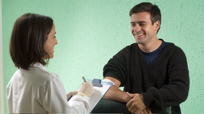 Hey everyone, it's Prostate Cancer Awareness Week. Not that we all need to sit around discussing this male gland that makes fluid to help nourish and transport sperm during—well, you know. But it's important to acknowledge that 1 in 6 men will develop prostate cancer.

Now there's a sobering thought.

The good news is, a guy's chances of beating prostate cancer are excellent, provided it's detected early. Here's the rub: There are often no early warning signs to this disease, so go for regular screenings.

During Prostate Cancer Awareness Week, men over 45 (and high risk males over 40) can get free or low cost screenings at local sites across America. To find a site near you, click here.

Ladies, you aren't off the hook on this one. It's up to you to nag (uh, strongly encourage) the men in your life, so they'll actually have the screenings. Learn more about managing prostate cancer, prevention and treatment with our experts.
Posted: 9/21/08