Let the Games Begin!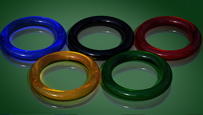 It's that time again. Get ready to snuggle up close with someone special and grab your favorite snack (well, probably breakfast) and catch the opening ceremonies of the 2008 Olympics in Beijing. It all starts tomorrow, 8/8/08 at—you guessed it, 8:08:08AM (EST). Note, that's AM, not PM—though in Beijing, it will be 8:08:08PM.

Before the games get underway, map out what's happening when, so you don't miss your favorite events (or forget to record them). Go to the official web site of the Beijing Olympic Games, click the Schedule link, then click any sport for greater details. For example, if you don't want to miss the mixed doubles badminton finals, click Badminton and an Excel spreadsheet tells you it's happening on August 17 at 6:30PM (and we definitely aren't missing that one!)

While you're at it, get to know some of the U.S. Olympians—athletes are listed by sport at the USOC web site. Because the greatest sporting event in the world is really all about the individual pursuit of a dream...and reading their stories will undoubtedly remind you of your own dreams! You may not be going for the gold in Beijing, but that doesn't mean you can't reach for the same level of excellence in your own life. Start today by remembering your own power in pursuing your dreams, and writing down some action steps that will get you there. Don't let another day go by without doing what you truly love—these athletes are doing it, and you can too!
Posted: 8/7/08