World's Longest Yard Sale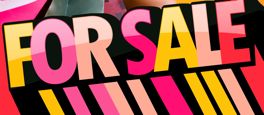 Looking for some good stuff, cheap? Toss the kids, the dog, Granny and plenty of sandwiches in the wagon and get ready for a road trip. Starting August 7th, and running four whole days through August 10th, you can visit the world's longest yard sale, also know as the "127 Corridor Sale."

We're talking 630 miles of other people's junk—er, we mean, treasures—to pick through. It starts in Defiance, Ohio, runs through Kentucky, Tennessee and Georgia and then finally ends in Gadsden, Alabama. Why, you ask? It all started 21 years ago to "pull people off the interstates and back into the heartland of rural, scenic America."

For those not in the area—or not up for a road trip—hit up a slightly smaller yard, garage, stoop sale or flea market near home. Check the paper or get up early and look for signs in the neighborhood. Sure, it takes a little extra work to find a diamond in the rough...but you'll save lots of money buying used...and you're recycling to boot! Living frugally and doing something good for the earth sounds like a great way to spend the day.
Posted: 8/6/08