Batman or Wonder Woman?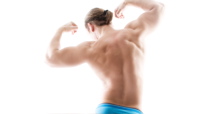 Da-na-na-Na-na-naaa… charge! Always wanted to be a superhero, but never had the muscle tone? Have no fear. You'll have a chance to save someone's life when you're—you know, done with yours.

How morbid...but stay with us for a sec. It's not the most pleasant thing to think about, but today, go to Organdonor.gov and sign up to be an organ and tissue donor. Register with your state, indicate your decision on your driver's license and sign a donor card. Oh, and you might want to let your loved ones know, just in case they had other plans for—well, you know.

Every day, 77 people receive organ transplants, but for 19 people a day it is too late. If you need a reason closer to home, many families report that knowing a donor's "Gift of Life" saved someone else helps to ease their loss.
Go on—become someone's hero. And don't worry...you can totally keep working on that x-ray vision if you really want.
Posted: 8/8/08