Random Acts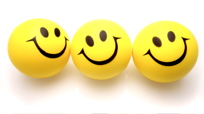 We all know what goes around comes around. Or do we? So often we rush through the day ignoring the needs of others, forgetting to say thank you and barely making eye contact with anyone at all. As human beings, we can do better! Starting today, practice at least one random act of kindness every day.

Not things you do already, like kissing your kids goodnight or taking out the garbage without being asked. Nice try, though. It should be something you wouldn't ordinarily do, or that you go out of your way to do, even for a total stranger—something totally, well, random.

Pay for the next person at a toll booth or coffee shop, give up your seat on the subway, or let a parent with young kids go ahead of you at the check-out line. Compliment a friend or coworker, give a waitperson a larger-than-usual tip… the list is endless. You can find more ideas here or type "random acts of kindness" into Google and see what comes up!

Try it for a week, then wait and see what happens…we can nearly guarantee it will change your spirit and make your day-to-day life even happier. Let us know if being kind to others becomes more easy for you!
Posted: 8/12/08