The Benefits of Bedhead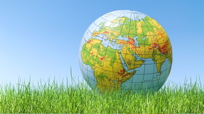 During hot summer months when rain is scare and snow melt is a distant memory, town water supplies tend to dwindle. And while you may already dutifully obey water ban notices how do you do your part to save water inside your green home? Start with the shower—it's where we use most of our water at home.

Don't worry, we aren't going to suggest washing together (though we hear it can help improve a relationship), but how about swapping off on hair washing days? You'll save time in the shower and your hair will probably end up healthier in the process. Washing hair every day strips it of natural oils and can make it dry and brittle—particularly in the case of long hair, since the oil never has a chance to reach the ends. Unless you have a lot of oil, a very short style or hair that's fine and thin, most experts agree that washing every other day is plenty.

On the days you don't wash, just wet your hair and use a dab of conditioner, if needed. Or try one of the many available detangling products. They work wonders on bedhead. Who knows? You may just find a sexier style when your hair is a little more rugged.
Posted: 8/10/08