100 Calories Your Way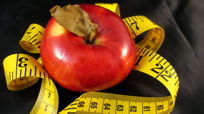 With the recent push for nutrition labeling of all fast food and grocery products, food manufacturers have been forced to bare all. Their response? 100 calorie packs of our favorite snacks. Puh-leeze—those things couldn't satisfy a hamster.

If you're trying to lose weight and want a real snack—natural, healthy, unprocessed foods that will curb cravings and keep you full longer—do your own math. Try three cups of fiber-rich air-popped popcorn, a banana or a cup of carrots with two tablespoons of hummus. Need some protein? Two egg whites on toast are—you guessed it—100 calories. For something sweet and refreshing, try some frozen grapes or a cup of strawberries with a dollop of Cool Whip. (Okay, so maybe Cool Whip isn't exactly natural...maybe a spoonful of yogurt would do the trick.) Don't those options sound better than a teensy pack of super-thin "cookies" or chips? Our mouths are watering right now...

Look for your favorite ways to indulge as you work to lose weight. If you overindulged during the holiday weekend, don't stress! Remember that it's not a race. Eat regular meals and small snacks in the right portions, keep moving and stay on track toward your goals. You might even share your weightloss wisdom with all those hungry "100 Calorie Pack" people!
Posted: 7/6/08