Pull Up a Corner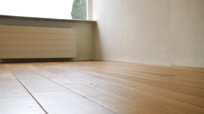 My house is too small. Wah. I need more space. Wah! Whether you're buying a new home or staying put for a while, you can totally make the space work for you with a little...you guessed it...change!

Your house is only as big as the number of places to "do" something in each room. Take the living room, for example. If there's one furniture grouping, that's one place to "be." But add a chair and lamp in one corner, and now you have two places to hang out in the same room. The space instantly seems bigger!

To put this philosophy to the true test, make yourself a breakfast nook—someplace to relax and have a cup of coffee, read the paper, or just get away from the hustle and bustle of the rest of the house. Clear a corner in the kitchen or dining room, add a chair and a little café table and deem it off-limits to the rest of the family. Whaddaya know? Simply moving some furniture around or adding a few pieces is a dramatic shift! This place seems bigger—and more personal—already.
Posted: 7/20/08