Staying Away From Bisphenol A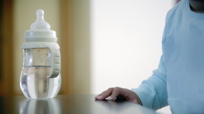 Don't give that bottle to your baby without sterilizing it. Wait, don't heat up that bottle, or you'll release toxins into the family environment.

Can you say confusing? No wonder new moms (and all the rest of us) are so stressed. Every time you turn around, it's another conflicting message about "safe" plastics. Unfortunately, there's nothing you can do but learn the facts and use your own best judgment.

Here's the deal. Bisphenol A is a chemical found in most plastics that has, along with pthalates, caused families across the country to ditch their baby bottles and plastic containers. It seems heat breaks down the plastics and releases these chemicals, so if you do use plastics, the safest bet is to handwash them in cool water, avoiding the dishwasher.

Alternatives to plastic include aluminum water bottles or using glass or CorningWare in the kitchen. More information about avoiding Bisphenol A can be found online. Go through the kitchen and take note of where you might need to replace plastic items with alternatives. You'll be glad you did!
Posted: 7/19/08