Mind-Numbing Software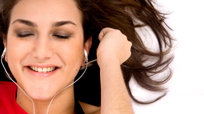 Ah… the good ol' days. Up at dawn, work the fields, back to bed. Clearly, those pioneers didn't have trouble drifting off at night.

Today, our lives are a steady stream of wants and have tos. And we sit all day—in cars, at desks and in front of the TV. It's no wonder we can't fall asleep!

If you can't quiet your mind at night, don't turn to the pharmaceutical companies just yet. A less addictive solution is "pzizz". This downloadable Mac or PC software ($30) generates random, customizable soundtracks of voice, music and beats that promise to clear your mind, ease you into sleep and help you wake in a positive state of mind. Load it onto your iPod or MP3 player and keep it next to the bed for those especially rough nights.

For "performance breaks" (read: power naps) during the day, you can also purchase the "energizer" module. And if software isn't your speed, you might try a meditation practice. Not that it's designed to put you to sleep, of course—but a bit of relaxation and letting go could help you when it is time to rest. Let us know which option works best for you!
Posted: 7/18/08