Master Your Emotional Rainbow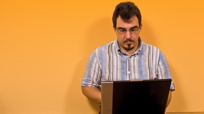 If your home life is an emotional roller coaster or you're having trouble feeling happy, don't blame your roommates or your partner. First, check out the colors of your walls. You may have a general sense of the psychology of color, but do you know how colors affect you personally?

Red can stimulate your appetite or make you feel angry. Yellow is the color of optimism, yet it's hardest on the eyes and can be overpowering. And while blue is associated with tranquility, in dark shades it can be depressing and cold. This, of course, is a general guide—everyone reacts to colors differently.

Start paying attention to the feelings individual colors invoke in you. Whenever you're feeling particularly relaxed, or just the opposite—angry and irritable—look at the colors around you. Most likely, you'll start to notice a pattern.

Now pat yourself on the back for using your keen powers of observation. And start painting some more "positive" colors into your home space! If you want to do something even more immediate (and less time consuming and expensive than painting) pop a brightly colored vase full of flowers onto your desk, or add some colorful throw pillows to a couch or chair. Don't you feel happier already?
Posted: 7/1/08