Buried in Books.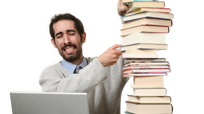 Wow, what a great book—a real nail-biting, edge-of-your-seat kind of adventure. Now, where to put it? Surely, there must be room in that bookcase for one more.

In case you want to read it again sometime.

Yeah, right. That book might feel like a good friend, but let's face it—it's over. You already know the ending. No matter how much you paid for it, it's worth a lot more to someone who hasn't read it than it is to you collecting dust.

A new online service, Paperbackswap.com lets you swap books (not just paperbacks) with other members for the cost of the postage. So you can clear out your old titles and get some new ones for essentially nothing. Whenever someone receives one of your books, you get to select a "new" one in exchange.

If only you could do the same thing with friends.
Posted: 6/20/08