Doc, It Hurts When I Do That.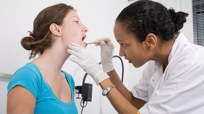 Then don't do that.

Probably not the best attitude. Ignoring an ache or pain is not going to make it go away. Even if you have no aches or pains, you should see a doctor for routine checkups.

Oh, that's right. You don't have a doctor. So let's see… you have health insurance. You (or your employer) pay lots of money for this insurance. But you don't have a primary care physician, also known as a PCP, so you never use it. So not only do you not have anyone to call for a checkup, but you don't have anyone to refer you to a specialist should you develop some life-threatening condition, like, say, diabetes or maybe A BRAIN TUMOR.

Glad to see you're awake now. Find a PCP and make an appointment.

Otherwise, people might think you're afraid to go the doctor...
Posted: 6/21/08