Private Profile: Keep Out!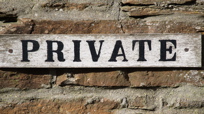 You've been meaning to try Facebook. It just seems so—well, public. Or juvenile. Or time consuming. Or all of the above.

It can be some of those things, but Facebook can be as public or private as you want. You choose what you want to share and whom you want to share it with, so there's lots of control to be had.

Check it out and see for yourself. Sign up, set up a profile, then click the Settings link at the top of the page to access Facebook's privacy settings. Spend some time reading through the options, make a few changes and click Save Changes. That's it—you're set up and ready to socialize. Today, choose a few of your favorite photos and share them with friends.

Experienced and new users, be sure to turn off the controversial Facebook Beacon that tracks your activity on participating sites (i.e., Blockbuster or Amazon). Access the privacy settings, select Applications, click the Settings tab, select the setting under Beacon Websites and click Save Changes.

And remember, you're not here to put your whole self on display. Facebook is fantastic for reuniting with old friends and others (one of our editors reconnected with her 3rd grade teacher!) and is also good for networking amongst colleagues. If you've got kids, it's a great way to keep tabs on their friends and activities (within reason, of course) and be a part of their world.
Posted: 11/30/08