To Show Your Thanks, Plan Your Giving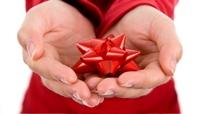 Take a good, hard look around you. If you're reading this—which you are, or we'd just be talking to ourselves *again*—chances are good you don't live in a dilapidated shack with no heat, food or video games.

In the spirit of all you have, take a break from the Thanksgiving Day feast preparations, gather the family 'round and plan some giving. What charities will you give to this year? Is there a local Toys for Tots program or a shelter that needs last-minute hands to serve? If you're short on ideas, ask everyone to search the internet, scan the newspaper or ask around and come up with one way to give this holiday season. Then set up a time to discuss what you find.

One program that's under the radar, but very worthy, is Operation Santa. Volunteers in participating cities visit their post office, select a letter written to Santa and purchase gifts for that child and family. Imagine being able to BE Santa Claus! Pretty fun stuff.
And if you are struggling fiscally this year, don't feel like you can't contribute. There are lots of places in need year-round of volunteers to serve meals, read, do administrative work, tutor and get the word out to potential donors. Don't be shy just because your wallet is a bit smaller than your heart. Go ahead and contriute your time and talents. Help, in all its forms, is always in high demand.
Posted: 11/26/08