The Great American Smokeout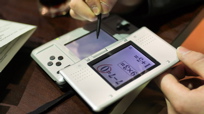 You want a DS game for the holidays? This is one sure way to get it—tell your loved ones it'll help you quit smoking!

That's right...imagine playing Nintendo to get cigarettes out of your mouth. No joke. A Nintendo DS smoking cessation game based on "Alan Carr's Easyway to Stop Smoking" method is due out this month. Enter your personal smoking information and a personal coach guides you through quitting. There are also fifteen mini-games to help "dispel the illusion of nicotine addiction."

If you're not the Nintendo type, today just happens to be the 33rd Annual Great American Smokeout. The American Cancer Society challenges you to go just 24 hours without smoking to start the quitting process. It's only one day—c'mon, you can do it! Quitting smoking is a lifelong commitment and you can start it now by focusing on one day of being smoke free.

We're sure we don't need to repeat the health warnings (after all, smokers aren't stupid. We know you can read the side of the pack.) But in this economic climate, allow us to remind you that your habit is probably costing you about $1,500 per year. Think of what you could do with that money!

Seriously, though, taking a small step today to release yourself from the addiction of smoking could have a big payoff later—and not just financially. If you're a smoker, just try it. For us. If you're smoke-free, speak to someone you love about quitting. For them.
Posted: 11/20/08