Naming Your Core Beliefs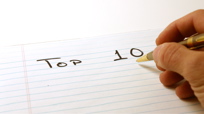 There are things that are important, and then there are things that are Important. The question, of course, is how to know which is which. What's important to you may not be important to someone else.

That's why being able to name your core beliefs is critical. Call it a personal philosophy, if you will. Defining your core beliefs can help you in everyday life as you seek to match your actions to the person you are, and the person you want to be.

Sounds easy enough, but drilling down into true beliefs can take a little effort. For instance, most people would say they believe in things like love, equality and truth. Those are wonderful guiding principles and if they're yours, great! But can you go a little deeper? Think about the times that you've been through difficult change. What important life lessons did those challenges teach you? How did you find the strength and hope to get through it? It's when you dig down into the nitty-gritty of your experiences that you'll find what you really stand for.

You can write these things down, and it may be a long or short list. You might even choose to write a values statement or some action steps to take to live out your core beliefs day to day. Whatever way you choose to name your beliefs, know that doing so will be immensely valuable to you now and in everyday life. After all, no one knows you better than, well...you! And when hard times come, you'll be able to draw on these core beliefs and values in order to push through to the other side.
Posted: 11/19/08