The Power of the Powder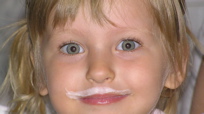 How many of us growing up were among the few, the proud, the powdered milk drinkers? Mom, seriously, what were you thinking? She was trying to save money, that's what. Take a cue from mom and some creative individuals who have come up with some household uses for the stuff to help you save money.

Among its more useful applications, powdered milk can plump up and freshen thawing frozen fish or remove ink stains from clothes. From the slightly more far-out category powdered milk apparently makes a nice shaving cream, fixes cracks in china (not the country, the dishes) and can be used to paint a room.

Use it to polish your silver, to soften your skin in the bath, to make whipped cream--the list goes on. There are other uses, but the main idea here is that if you haven't already, start looking for new uses for everyday items around the house. It's a great way to tame expenses during tough times...and even if you're doing alright financially, it can't hurt to save a bit more.
Posted: 10/29/08