Download a Workout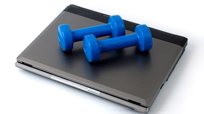 Research says technology makes us fatter, but we beg to differ. For starters, unless you have a workout partner or need to clear your head, the right music delivered via earbuds is one of the best exercise motivators known to mankind.
Especially when it's cold outside and you'd rather watch marathon episodes of "Heroes."

If music's not enough, you can download workouts directly onto your mobile device or computer. Select an audio program featuring the voice of some elite Hollywood trainer from iTrain, or go to Men's Health and download a video to get super sculpted legs or experience a Marine Corps Workout. At Women's Health you can go to Glute Camp. Some workouts are free, other sites have membership options or a la carte prices from 99 cents to $9.99. Try Googling "download workouts" for many, many more options.

Have a favorite? Share it with us and the Getting in Shape community!
Posted: 10/28/08