Keep Breathing in Mind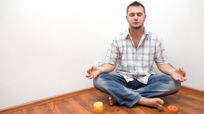 These days, it's all about mindfulness--how it reduces stress, leads to happiness and so on. But if you're not be ready to dive into 5:00AM yoga classes or turn your golf clubs in for a meditation cushion, consider this a trial run. Spend ten minutes today on mindfulness breathing and see if it works for you.

Sit in a comfortable place with your spine relaxed but erect and eyes closed. Breathe through your nose gently and focus solely on your breath. When thoughts, feelings or noises distract you, notice them, let them go and then return your attention to your breathing.

Feel the stress melt away as you start to feel grounded in the present moment (as opposed to lost in thought) and the mind body balance is restored. Even if you don't do it every day, this exercise works wonders when you need to de-stress.

Like when your four-year-old drops the sippy cup on the new sofa. Grape juice. Inhale...Or when your boss gives you a last minute project on Friday afternoon. At 4:30. Exhale…

Have you tried mindful breathing? Does it work for you?
Posted: 10/15/08