Climb Your Family Tree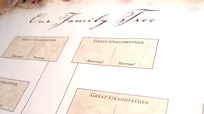 Do you know your heritage? Why not get the whole fam damily together and create a family tree? These days, some good old-fashioned family time is just what the doctor ordered. Bond with loved ones and get a better sense of where you come from at the same time. You'll probably hear some good stories in the process, so be sure to keep your camcorder handy. Now that your filming, go one step further and get an oral family history to pass down to future generations.

Kids can get in on the action by creating their own family trees with construction paper and crayons or markers. Let them include everyone in the household—even the pets! Don't know your lineage? A site like Ancestry.com or Genealogy.com can get you started.

It's up to you to preserve your unique family story… including the one about Uncle Bob's cousin's half-daughter's relation to Queen Elizabeth. No time like the present!
Posted: 10/13/08