Get a Real Lunch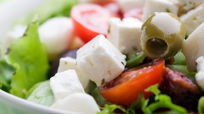 Ever wonder why everyone's in such a hurry to get out of the office at lunchtime? They're in search of a decent meal. After choking down one bologna sandwich too many, they've lost all faith in their lunch-making abilities.

But the alternative isn't much better. Ye Olde Lunch Tavern's daily special, while tasty at the time, will probably render you sluggish and virtually useless later on. Exactly what was in that meatloaf anyway?

Fire up that imagination and start packing yourself some decent homemade lunches--they're healthier and cheaper. Fill an insulated thermos with leftovers. Sauté artichokes or other vegetables with garlic and oil. Toss lettuce and veggies with last night's chicken. The list of possibilities is endless and way healthier (and more satisfying) than the mystery meatloaf.

While you're at it, get yourself a stylin' lunch box. The old-fashioned metal type with matching thermos works nicely, preferably in a Peanuts or Scooby-Doo motif. For more grown-up lunch ideas, check out this WebMD article.

What's your favorite from-home lunch?
Posted: 10/12/08