Lose the Packaging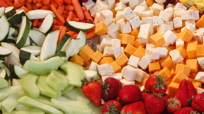 Read the label on pre-packaged, grab-and-go meal and you'll understand why they've gotten such a bad rap. A certain ham and cheddar cracker combo, complete with beverage, packs a whopping 660 calories, 22 grams of fat, 1,600 mg of sodium and 57 grams of sugar. That's more salt and sugar than anyone needs in a day!

There are plenty of healthy alternatives out there that you can enjoy. There are some great recipes that kids and adults will enjoy, but you can really make a great meal without ever searching online or opening a cookbook. Try turkey and veggies in a whole wheat pita with applesauce or carrots. Almonds and a bit of cheese make a great mid-afternoon snack when you're slumped over on your desk. If you have a family, there are some fun recipes that kids can help with.

Or just Google "healthy lunches" if what you've been eating is getting, well, stale. Make lunch easy by planning ahead. Create a list (and stick to it!) of healthy items you need from the supermarket. Each night, plan what you are going to eat the next day at the office and prep it the night before. It takes a few days to get into the habit, but soon you'll find that you are eating more healthfully, have more energy and are less prone to snacking when your co-worker bakes her special double-chocolate brownies (though we guess just one can't hurt.) Do you brown-bag it? Share your fave lunch ideas with us!
Posted: 9/5/08