Fashionably Fall-No, Spring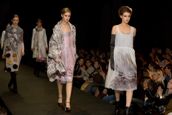 This week, New York City will be filled with models, fashion icons, designers and aspiring fashionistas for the festivities of Fashion Week. Even if you can't pronounce half of the designers' last names, you can still get into the spirit of Fashion Week by experimenting with new looks.

Visit local boutiques or department stores like Macy's and try on some garb you would never think to grab (even if you have no intention of buying it.) If you're a jeans and T kind of guy (or gal), try experimenting with a modern-style suit or slouchy blazer. Give some bright colors a go—emerald green, plum, ochre and teal are all over the place this season—if blue, black and brown make up the majority of your wardrobe. And if you're always dressed up, try out some comfy, oversized sweaters or a stylish T-shirt for a change!

Make a day of it by taking your friends along for the ride and having a fashion show for each other! You may even come up with a new signature look, but with friends you will definitely have some good, quality time no matter what. Because even though doing something different with yourself is nice, it's the people around you that will give you the confidence to put your best foot forward.
Tell us what your fall fashion must-haves are!
Posted: 9/4/08