News
The latest news on this change — carefully culled from the world wide web by our change agents. They do the surfing, so you don't have to!
Poverty Is a State of Mind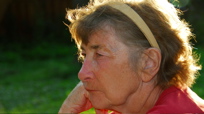 If you watched last night's final presidential debate, you heard both candidates speak to the fact that we are in the hardest economic time since the Depression. It's got many of us—and you—worried about finances and the future. For those who were already barely getting by, things are devastating. For those who are used to being moderately comfortable, preparing for a less cushy lifestyle is a challenge.

Either way, there's something to be learned from bloggers around the web today, who are putting up posts in support of Blog Action Day. Today thousands of bloggers will unite to discuss a single issue-poverty. They aim to raise awareness, initiate action and to shake the web! Sounds like a plan to us...
Poverty is a very real and critical issue facing people globally. As Americans, we cannot ignore the fact that there are those right here at home who can't afford the basics of food and shelter. Then we must grapple with the fact that our basics and basics in other countries aren't quite the same thing. A family of six living in a trash dump in the middle of Managua, Nicaragua, is happy just to have a little lean-to for shelter and one meal a day. We'd never expect people here to live that way.
Today, we can recognize the need to eradicate poverty, while remembering to be happy for what we do have instead of wailing about what we don't have. Yes, times are hard. For some, times are unbearable. But the majority of us are doing alright, even if we're living paycheck to paycheck or collecting unemployment. Things could always be worse.

Poverty is described as the state of being extremely poor, but it's also the state of being "insufficient in amount." You may or may not be living in financial poverty...but what about your state of happiness? Are you insufficient in amount when it comes to the way you view your life and the world? If so, maybe today is the day to challenge that state. What do you think?
Posted: 10/16/08