News
The latest news on this change — carefully culled from the world wide web by our change agents. They do the surfing, so you don't have to!
June 20: The Happiest Day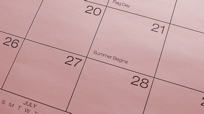 A researcher by the name of Cliff Arnall at the University of Cardiff's Center for Lifelong Learning has deemed June 20th "the happiest day of the year." He arrived at this conclusion by looking at factors that affect people's happiness: weather, seasons, an approaching holiday and the fact that June 20th is a Friday.
OK, maybe pinning down a particular day seems a little silly, but the beginning of summer does hold a lot of promise. The temperatures are milder than the later summer months, you may be looking forward to a vacation and lunch breaks can be taken outside.
Chandra Palmer, a regular white-collar worker, comments on the outdoors/happiness connection: "It's just like a mini-vacation from work. I walk into work after lunch feeling like I haven't been there yet. It's a fresh start."
Do you agree with summer being an overall happier season? Do you enjoy work better even if the hours are the same? [
Indianapolis Star
]
Posted: 6/20/08