News
The latest news on this change — carefully culled from the world wide web by our change agents. They do the surfing, so you don't have to!
Information Overload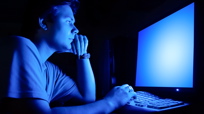 Around here, we talk alot about the things that affect people. We think about how an endless news cycle of gloom-and-doom changes the way we see the world and how it makes us feel about ourselves. As Ariane recently noted in her blog, when we are faced with times of crisis, our primary emotional patterns will come out even more strongly during the upheaval. So, angry people will become angrier, people who blame will blame even more, people who are full of fear will become more fearful. And people who are grateful will become more grateful, people who are focused on helping will find more ways to help.
Geting caught up in the 24-hour news cycle will exacerbate emotions, too. And it's easy, when watching a debate or a news program, to start talking back or yelling at the television (c'mon, you know you do it too.) And if you watch the news while you're getting ready for the day, and then refresh headlines all day at work, you're carrying the negative energy and tension with you.

Some of us have decided to stop watching the news in the morning, stop letting it pervade our every hour. It's not that we don't want to know what's happening in the world—but we want our mindsets to be positive going into the day! How about you—is the constant bad news getting you down? How are you coping with that, and do you think there's something to be said for making news less of a focus in your life? [New York Times]
Posted: 10/13/08