News
The latest news on this change — carefully culled from the world wide web by our change agents. They do the surfing, so you don't have to!
How Not to End a Call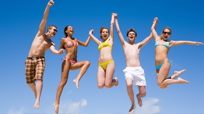 OK. We know a bunch of people who've done this and you do, too, we'll bet. They've dropped their cell phones in the toilet. Gaaaa! Phooey! (Or, they say something like that.)

Today we're offering up a link to great advice for this eventuality. It seems like more than an urban legend-for-success, so we wanted to pass it along. Plus, the text is easy to read. It's short and is accompanied by a video with mediocre acting and gnarly design. So, perfect. Right?

Sure is. Don't forget to read the comments below for advice on similar problems as well as a message from one guy who writes what the video shows. Hey, thanks guy! That helps.
Posted: 2/20/09