News
The latest news on this change — carefully culled from the world wide web by our change agents. They do the surfing, so you don't have to!
Avoiding SAD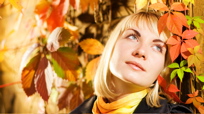 With summer's end comes a few unwanted extras: beginning of the school year for many, shorter days for all, and a little or a lot of SAD. Seasonal Affective Disorder is defined as a mood disorder experienced in the fall and winter months when the lack of sunlight and dreary weather can seriously affect one's spirits. People with SAD find that they sleep more often, eat badly, feel generally lethargic and even get depressed.

The Guardian is tackling the subject early this year in order to help anyone who thinks they may be prone to SAD. One suggestion is for light therapy, employing more powerful light bulbs to mimic the amount of light seen in the spring and summer months. Look for the ones that most resemble natural light. There are even products called "dawn simulators" that do exactly what you think they do—increase light in the morning hours in a way that feels like a summer day.

If being happier is on the agenda for winter and you tend to feel more down that time of year, look into additional ways to withstand harsher weather. Do you typically experience something like SAD, even if you don't label it? How do you work through it?

Posted: 9/16/08