News
The latest news on this change — carefully culled from the world wide web by our change agents. They do the surfing, so you don't have to!
Worst. Baby Name. Ever.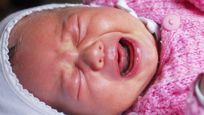 In the "ten points for standing by your convictions" category, this guy has the sweep. But he's earned about -700 billion points in the "picking out a baby name" category.
Sarah McCain Palin.
It's not that the names themselves, when taken separately, are bad. But what the [bleep] was this new dad thinking? Although he and his wife had already picked out a perfectly nice name for their little girl—Ava Grace—Mark Ciptak decided to show his support for the Republican presidential ticket and saddle his daughter with a moniker folks will surely be talking about for years to come (regardless of who wins the election).

Ciptak says he did it because he doesn't have money to contribute to the campaign. Guess the sign in his yard and his impending vote aren't enough. We're all for being passionate—but how would you feel if your partner did something like this? [DNJ.com]

Posted: 10/14/08