News
The latest news on this change — carefully culled from the world wide web by our change agents. They do the surfing, so you don't have to!
TV for Tots?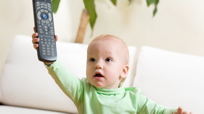 The debate over whether or not babies and toddlers should be watching TV has been going on for awhile now. In fact, the American Academy of Pediatrics has said babies should be kept away from television altogether. And now, France has taken a big step and banned French channels from airing TV shows aimed at children under 3 years old to shield them from developmental risks it says television viewing poses at that age.

"Television viewing hurts the development of children under 3 years old and poses a certain number of risks, encouraging passivity, slow language acquisition, over-excitedness, troubles with sleep and concentration as well as dependence on screens," the ruling said.

There are two foreign channels aired in France on cable TV: BabyFirstTV and Baby TV. Both have 24-hour programming dedicated to baby-targeted programming. The authority has also ordered French cable operators that air foreign channels with programs for babies to broadcast warning messages to parents.

Do you think all TV viewing for kids under 3 is bad—or are there some exceptions to the rule? Sound off below!
Posted: 8/22/08