News
The latest news on this change — carefully culled from the world wide web by our change agents. They do the surfing, so you don't have to!
The Great Debate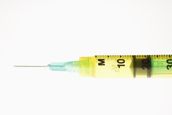 While the debate over vaccinations rages on, the number of measles cases in the US has reached its highest level in over a decade, with nearly half the cases involving children whose parents have chosen not to immunize.

According to the Centers for Disease Control , 131 cases of measles were reported from January to July of this year, compared to 42 cases in all of 2007. Of the 131 cases, 112 children were unvaccinated or had an unknown vaccination status. In addition to measles, there have also been recent outbreaks of pertussis (aka whooping cough) reported in the US.

According to the Institute for Vaccine Safety, 21 states offer a provision for personal belief exemptions. And while many parents are concerned about the possible link between vaccinations and autism, these recent outbreaks have health officials worried that if more and more parents choose not to vaccinate their children, there will be more outbreaks of dangerous diseases.

As a new mom, what is your stance on the vaccination debate? Share your opinions with us.
Posted: 8/29/08