News
The latest news on this change — carefully culled from the world wide web by our change agents. They do the surfing, so you don't have to!
News Flash: Pregnant Woman Gives Birth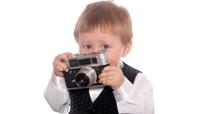 How many times can we hear the word Brangelina without wanting to throw up in our mouths a little? Sure, they're the handsome power couple that go about adopting children, starring in blockbuster films, saving the world, and looking damn good doing it but why does society care so much about them? Even Indian newscasts are talking about the couple finally giving birth to their twins yesterday!

And here we are, throwing our opinion into the mix (it's a dangerous cycle, indeed.)

The power couple has been getting outrageous offers for exclusive first photos of the twins for weeks now, and some of the numbers are insane. However, reports show that the money will probably go to charity, so we're glad for that. There's no doubt that new moms love taking pictures of their newborns. In fact, they're downright obsessed. The best part about taking these pictures is that you get to share them with the rest of the world. But sharing these pictures for money? We're not exactly sure how we would react.

Tell us, if an opportunity came for you to sell your newborn's pictures for millions upon millions of dollars, would you do it?
Posted: 7/14/08