News
The latest news on this change — carefully culled from the world wide web by our change agents. They do the surfing, so you don't have to!
On the Road, With Kids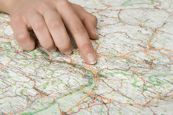 As we're heading into the end of the year, it's list making time. Best TV shows (Mad Men, Brothers and Sisters) best films (The Dark Knight...umm...) and best music (Santogold, Vampire Weekend).
And, as long as we're giving out awards, let's give one for parents who take their kids to work every day. Kory Gardner and Jason Hammel of the critically-acclaimed band Mates of State are on tour with their daughters Magnolia and June in tow. ABC recently profiled the couple, and it's easy to see why these two would want their kids with them at all times. First of all, they are cuter than we ever hope our kids could be. Second, who wouldn't want to take little ones on the road when Gardner and Hammel make it look so easy?

To be sure, it's not easy, but honestly—what a fun way to give kids a chance to see the world and get an experience as a family they can always treasure? It's not the way most parents go about things, but it is a good reminder that new moms and dads don't have to sacrifice their dreams in order to be good parents, or vice versa. And as we head into a season of holiday travel, it's also a reminder that you can probably survive that trek to your parent's place, knowing that the kids will be back at school and out of your hair (and car/plane/train) in no time.
Posted: 12/1/08