News
The latest news on this change — carefully culled from the world wide web by our change agents. They do the surfing, so you don't have to!
How Do You Do It?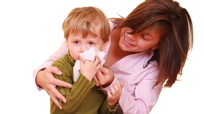 Dearest new moms, we know it's not easy. Even though you're overjoyed to have created this whole little person, there's so much to consider each day, even each hour.
So we thought we'd give you a chance to sound off. What's your parenting philosophy? Do you even have one? We're interested to know how moms (and dads!) out there are striving and surviving, and what your hopes are for your little one as they grow up in this world. If you've been a mom a bit longer, your wisdom is valuable too! Please share with our community how you've done what you have.
Posted: 8/6/08