News
The latest news on this change — carefully culled from the world wide web by our change agents. They do the surfing, so you don't have to!
Hold On Honey, Mommy's On a Coffee Break!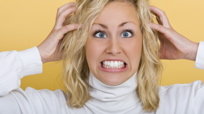 If you're a mother—especially a new mom or juggling multiple kids—you probably need a coffee [or three] in the morning to get going. With so many women playing the role of mommy and career gal, caffeine is a must to get through the day. Even stay-at-home moms, with a never ending list of activities planned to get through the day, have to consume a few Redbulls to feel motivated for Gymboree.

According to CNN, moms are hitting the coffee shop more than ever and energy drink sales have soared since 2007. More than 65% of moms drink some sort of energy booster to get through the day. Can you blame them? With so much pressure, and so little help for mothers in this country, sleep comes second.

Caffeine, however helpful during the day, is extremely addictive. Drinking too much can lead to gastrointestinal problems, heartburn, and miscarriage if you drink while pregnant (to find out how much caffiene is safe to drink during a pregnancy check out this article.) Next time you're feeling tired, maybe you can try walking around the block, doing some deep breathing to infuse your body with oxygen, or hire a sitter for an hour and get in a nap!

What do you think about the mom coffee craze? Do you feel you drink too much caffeine? Tell us how you manage it all!
Posted: 6/24/08