News
The latest news on this change — carefully culled from the world wide web by our change agents. They do the surfing, so you don't have to!
High Heels for Baby Girls?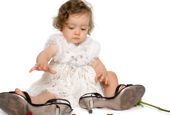 What happened to the days when baby girls wore cute pink slippers or shiny Mary Janes? The latest fashion trend for tots—high heel crib shoes—is causing quite a stir. Some people think it's adorable, while others find it an attempt to create even younger clones of Paris Hilton. Heels for babies that can't even walk? Really?

Created by two Seattle moms, Heelarious shoes sell for $35 a pair, and come in such designs as leopard satin print, hot pink patent, black satin, zebra satin, black patent and hot pink satin. The shoes only come in one size (0-6 months), and aren't meant to be walked in. In fact, the heels collapse if a baby attempts to stand on them.

Heelarious brags that they have "conquered the last frontier of baby fashion in such a fabulous way that we have to think that Carrie Bradshaw would most certainly approve." Wow, we never thought we'd see the day when a Sex and the City reference made it into the same sentence as baby footwear.

What do you think of this latest fashion trend—totally adorable or too creepy?
Posted: 9/15/08