News
The latest news on this change — carefully culled from the world wide web by our change agents. They do the surfing, so you don't have to!
Don't Feed The Children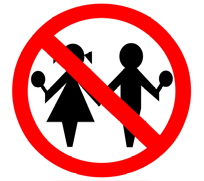 If you're like us, having kids isn't going to stop you from dining out once in awhile. When the good old days of being a new mom and carrying around your newborn in a car seat and enjoying a meal while he or she sleeps the entire time are gone, you'll be on a search for family-friendly establishments. After all, some restaurants have gone so far as to ban children from even entering.

What do you think of restaurants baning kids? Shouldn't it be left up to the paying customer if they want to bring their children in, and even yet, shouldn't we be teaching our kids to be well behaved in certain places?

Parents magazine has put together a list of the top ten family restaurants. We are bummed to see most of them are chain restaurants and not very healthy at that. Is this what parents have succumb to? Chili's on a Friday night?

What do you think of the list? Do you think once you have kids you need to suck it up and sit at a Red Robin for dinner instead of a smaller bistro? Do you think many of these smaller places are not kid friendly? We'd love to hear your opinion!
Posted: 6/30/08