News
The latest news on this change — carefully culled from the world wide web by our change agents. They do the surfing, so you don't have to!
Angelina Jolie "Breastfeeding" on the Cover of W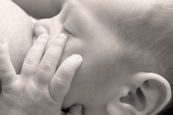 Breasts. Half the world has them, and the other half certainly doesn't seem to mind looking at them—so why is breastfeeding still such a taboo? Breast milk is key to providing nutrients in the first few days of a child's life, and breast milk is full of vitamins and minerals your little one needs to keep healthy.

Busy new mom Angelina Jolie apparently does it, and doesn't mind being snapped by partner Brad Pitt while she does. The image is now on the cover of W magazine's "art issue." It is not a sexualized shot, in fact, you can't see a breast and the only indication there's a baby in the shot is a tiny hand poking up.

Yet it's newsworthy. We're supposing this is for two reasons: One, the words "breast" and "Angelina" are always big sellers. Two, breastfeeding has always been a hot issue...if not the actual act, then seeing someone do it publicly.
So here we are, talking about it too. Tell us your take. Have you seen the cover? What are your thoughts?
Posted: 10/10/08