News
The latest news on this change — carefully culled from the world wide web by our change agents. They do the surfing, so you don't have to!
Dance, Baby, Dance!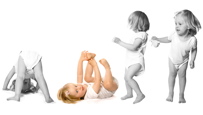 Being a new mom can be frustrating; after all how many times can you play peek-a-boo without going crazy? Instead of spending a summer afternoon walking around Target killing time before your little one naps, why not hit up Baby Loves Disco? This is an off-beat family oriented dance party for babies, toddlers, and their parents. A DJ spins kid-friendly music, and there are "chill out rooms" with pillows, books, and healthy snacks for the tots to munch on while you meet and mingle with other new parents (and yes, the site says that there are adult beverages for non-driving moms and dads).

Locations are popping up all over, in cities as far flung as Scottsdale, Dallas and Boulder—there are even international programs. Baby Loves Disco is geared towards kids six months to one year and lasts about three blissful, freewheeling hours. That's three hours of dancing, playing, and snacking guaranteed to poop your little one out! And, speaking of poop, Baby Loves Disco events are held in child friendly environments with changing areas, and rest areas in case your child feels overwhelmed. You can check out this video of a New York City Baby Loves Disco event to learn more, and see if it's something a little different you and your baby want to try out.
What do you say, moms? Anyone tried these events? If you don't have one near you, have you created or would you create one on your own?
Posted: 6/18/08