News
The latest news on this change — carefully culled from the world wide web by our change agents. They do the surfing, so you don't have to!
Are You Too Old To Have Kids?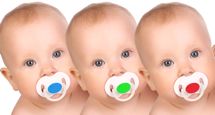 Age really is just a number, at least for a 59-year-old Frenchwoman who recently gave birth by C-section to triplets. Mom and her babies—two boys and a girl—are healthy and doing well. For now, anyway. We'll be interested to see how she keeps up her stamina to run after three healthy kids (which, it should be noted, is hard for anyone at any age.)

Reports are saying that the woman sought fertility treatments at a private Vietnamese clinic willing to overlook the age limit for egg donation and IVF, which is 45 in Vietnam (in France, the limit is 42.) Regardless of any cap on age, some women simply aren't letting it stand in their way of becoming mothers. Case in point: a 62-year-old Frenchwoman gave birth in 2001 to a child conceived through IVF. And earlier this year, an Indian woman said to be 70 years old gave birth to twins after receiving IVF treatment. Hmmm…maybe it's just us, but the idea of getting up for 2:00 a.m. feedings and changing dirty diapers at 70 sounds a teensy bit crazy.

Do you think there should be an age limit on women trying to conceive? Let us know if you think there should be regulations on becoming a new mom over 45.
Posted: 9/22/08