News
The latest news on this change — carefully culled from the world wide web by our change agents. They do the surfing, so you don't have to!
Nipples on Facebook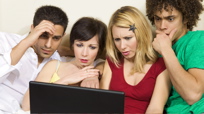 Facebook recently deemed nipples obscene, including images of women breastfeeding (seriously, people, when will that end? It's natural.)

In response, a young artist named Phil Hansen decided to test the limits of "decency"—and perhaps time-suckage—with an art project. He photographed his nipples and then proceeded to post a profile picture constructed entirely of said nipples to his Facebook page.
Awesome on two counts. Number one, it takes a real man to showcase the most useless part of the male anatomy in such a delightful and cheeky way. Second, it's a great commentary on the fact that women's exposed areas of flesh are constantly construed as obscene while men can walk around sans shirts as they see fit. While I can understand Facebook wanting to keep especially young users from posting provocative photos to the site, a flat-out ban on nipples seems a little heavy-handed.
What do you think?-Kristen Ball
Posted: 1/6/09