News
The latest news on this change — carefully culled from the world wide web by our change agents. They do the surfing, so you don't have to!
Beauty School Drop In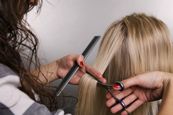 If Frenchy were around in during this current economic crisis, would the most fashionable of the Pink Ladies at Rydell High have been so quick to tell her to pack up her shears? Chances are, probably not. Educational experts are predicting that the current economic downturn will lead to higher enrolment numbers at colleges and universities, especially at community colleges and trade schools.



This includes people who already have undergraduate and even graduate degrees in more traditional fields. The shift in demographics is great news for any older folks who are planning on returning to college. With all these other people headed back to school, you probably won't be the only one who has to rush out of class to pick up your kids from karate or has to turn down a night at the bar in order to prepare a proposal for work the next morning.

We're not really surprised at the news, given that many of our members have recently shared in our Career channel that they're looking for creative ways to pick up extra cash! Even if you don't have the time or resources for heading back to school, you can parlay your knitting skills into a part-time business, or start babysitting in the evenings.

Have you considered extra education in the hopes of making more money?
Posted: 11/4/08